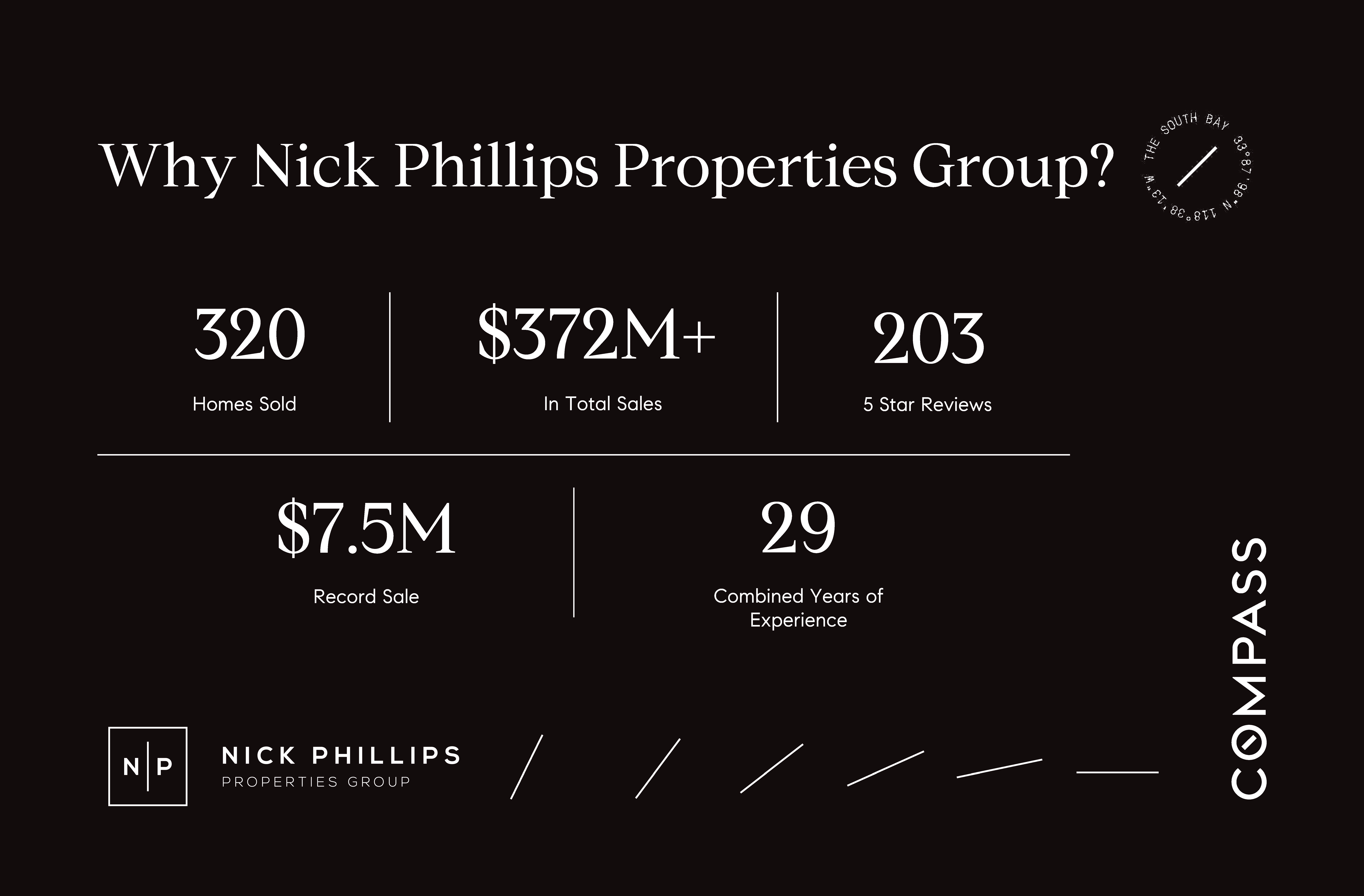 Why Work With NPPG & Compass?
Nick Phillips Properties Group has a proven track record of selling homes with an international and comprehensive marketing plan that reaches and exceeds client expectations. They pride themselves on always putting the needs of their clients above all else to ensure they feel secure throughout the life changing process of selling or buying a home. Their professional, reliable, and extremely personable interaction with each client makes this team stand above the rest. The team provides honest and open advice while staying constantly available to answer questions and address concerns.
NPPG's focus remains on residential and income properties in the South Bay of Southern California. The team uses a strong work ethic, organizational skills, and passion to help clients get the results they want. When complicated negotiations arise, you will find them all willing to step up to the plate, creating an action plan that will assure success in the real estate transaction.
---
What Our Clients Are Saying
We just moved into our new home in Redondo Beach and have Nick Phillips to thank as our agent. Nick was professional, extremely responsive to all our many questions and needs at all hours, a great negotiator when it came down to the many back and forth offers we had with the seller and just a super partner to have on our side as we were relocating.
We chose Nick on Zillow based on past reviews and we have the same glowing review to offer those looking to purchase a home in the South Bay. Highly recommend Nick Phillips and his team!
Alex P.
I was able to get my home near the beach thanks to Nick Phillips. He gave sound advice and helped negotiate a fair offer that was accepted by the seller. Nick quickly responded to all of my questions and researched alternatives when a few issues arose. He always made himself available, even when the matter was not urgent. The purchase went smoothly and he kept me informed every step of the way. It was a pleasure to work with Nick - he is well versed, polite, and always punctual. Thank you, Nick!
Carol H.
Nick handled the selling of our previous home as well as the purchase of a new home. He is extremely responsive and a delight to work with. The seller's agent for the home we purchased and the buyer's agent for the house we sold were both difficult to deal with and Nick handled it like the professional he is. We had some pretty lofty goals and requirements for our new home and Nick was able to find several choices for us, even with the current market low inventory. He also managed to get us $250K over list price in the sale of our old home. I highly recommend Nick.
Ted P.
Nick is fabulous. From the initial emails after an inquiry about a property, the subtle ways he kept in contact during the months leading up to the time I was ready to purchase, and our initial meeting Nick was great. After we met he showed me only 2 properties, both of which I completely loved! Nick knew exactly what I was looking for. I had some very complicated financing with my income source and Nick did not quit until he found a lender that could make it work. I never thought I would be purchasing the home that I am closing on in 2 days. It wouldn't have happened without his expertise and attention!!
Nicole S.
I was referred to Nick by a friend and he did a great job helping my wife and I sell our condo in Torrance and buy our new house in Torrance a few years ago. He was super knowledgeable, helpful, friendly and easy to get along with. He made the home selling and buying experience much more enjoyable than I anticipated it being. He is a pleasure to work with and he and his staff are very professional. We had great success with him and I highly recommend him to anyone looking to buy or sell their next home.
Maxwell B.
I'm surprised by all these reviews because I thought we were his only client! Seriously, I felt like he was dedicated to us personally. I was a difficult buyer and he stuck it out with us. He even talked me off the ledge when I thought we couldn't close the deal - he helped make it happen. Highly recommend.
Michelle D.
Kathy and Nick both helped us during our home buying process. As first time home buyers during the pandemic, Kathy really went above and beyond as our buyers agent. She was professional and helped us every step of the way and explained the process to us. She was very responsive and set up several home viewings and was present for each one. During an unprecedentedly competitive time as a buyer the process took quite a while, however both Kathy and Nick were patient and remained determined to find us our perfect home. Ultimately Kathy found us an amazing home that fit all of our needs and was able to secure a deal before the home even went to market. We are incredibly thankful for everything both Kathy and Nick did for us, and for making the search well worth it!
Jeanine P.
Nick is the absolute best! I have ton plenty of real estate deals and once I found Nick, I use no one else. He helped in sale/purchase of several properties now (a total of 4 deals!) and is the only real estate agent that I haven't found something to complain about. Everything from the initial strategy sessions to finalizing and closing escrow goes super smoothly, with no pressure and no second guessing. I highly recommend!
Nancy P.
My wife and I are very pleased with Nick's help in selling our home in South Redondo Beach.
Due to misadventures on our end (a major surgery etc), it took us far longer to pull the trigger, but Nick patiently stayed in touch without being overbearing while passing along items of interest about the market-- which in the times of the Virus was not an obvious thing!
Nick was a source of sound advice about what we needed to do to bring our home up to snuff and when we needed a repair or two he had excellent people to bring to bear to help us put things right.
An additional wrinkle was that our home was held as a trust, but this presented no problem. Indeed, all steps were handled in a prompt, sound, professional manner. In short order we had a cash offer above asking with 45 days rent free to move out.
Marc F. D.
We worked with Nick Phillips to purchase our property and he was outstanding. He spent hours listening to and answering our questions and concerns, providing resources for everything we needed. His professionalism, knowledge, honesty, and timely on-going communication were really appreciated and made the purchase process smooth and successful. We highly recommend Nick Phillips and his team for all your real estate needs!
Greg R.
Nick did a fantastic job during these challenging times. His marketing strategy and the execution far exceeded my lofty expectations. Sold our place in less than a week at a premium to our ask. If you think all realtors are the same, give Nick a call let him explain what he brings to the process.
Bill W.
Nick is great! Go with Nick! From start to closing day, he and his team were easy to work with and always polite. We followed his advice and our condo sold in record time. Highly recommend!
Elizabeth C.
Nick Phillips and his team were the best team that I have ever worked with. They are very professional, and everything went smoothly. Nick's communication style is exceptional, and he was very helpful with a great attitude. I would highly recommend them to anyone--you won't regret it!
Diane H.
It was a pleasure having Nick Philips & Cat sell our house in southern California in record time for more money than we thought it would bring. Our working relationship started 10 years ago when he cold-called us about selling. Once a year he touched base with us until we said, "Yes we would like to sell, but we now live 220 miles away." He said it was no problem and they proceeded to oversee all repairs, contractors, house prep and staging. Lastly Nick held open house and got 4 offers in 3 days, $150K over our estimate of value. All transactions occurred over the phone and internet with only a few escrow papers having to be mailed. I believe much of his success resulted from modern processes starting with known contractors and realtor contacts, early advertising and preparation via his Compass operation and extremely effective staging to bring in excited buyers ready to offer.
John D.
Nick has represented us as a buyer and seller. He is responsive, patient, and professional. He is calm and objective and navigates complicated situations expertly. Highly recommend!
M D.
Nick is wonderful! He helped us buy our first home. We met Nick after being in the market for almost nine months trying with no luck to find and buy our first home. With all the cash buyers and investors out here, we were feeling hopeless at this point. The first and only property we saw with Nick was exactly what we were looking for. He helped us put an offer and the offer was accepted. Nick helped us in every way possible to make the process easy for us. He is a great negotiator and problem-solver. He's also very patient, knowledgeable, and always on top of things. He is simply the best!
Roman B.
Nick and I just closed an escrow together and he was fantastic to work with. He has a thorough understanding of what it takes to purchase a house and how to represent his client's best interests. And he does it with wisdom and grace.
Too many people in our industry get consumed with the drama of escrow. As Realtors, our job is to stay level headed and focused on solutions when issues appear and not get consumed with placing blame. In our transaction, we had to resolve some uncommon situations that could have derailed escrow. I was very impressed with Nick's ability to problem solve and communicate on his client's behalf and very thankful he was the agent on the other end of the deal.
If you're hiring a Realtor to represent you, problem solver and communicator should be high on your list. I highly recommend you reach out to Nick!
David C.
Kathy Forrest was great from the moment we met her. She is very personable and knowledgeable in her field. She helped us along the way and was there for us at any time we needed her. We have had a very positive experience with Kathy. We are grateful for all of her help. She went above and beyond to make sure everything went smoothly. Kathy helped us understand all the different aspects of our purchase. She made sure that she was available at any time and that we understood the processes. We will definitely recommend her and hopefully work with her again in the future!
Carlos and Heidi
We were paired with Lucy Salem as our agent who treated us like family and blew us away with both her boundless enthusiasm and willingness to guide and educate us throughout the entire process.
She went above and beyond every single day with her incredible level of communication and patience in teaching us as first time homebuyers. Lucy was just so on top of everything!
After finding a home that perfectly fit our needs and more Lucy was able to quickly cultivate a positive relationship and clear lines of communication with the selling agent which really helped our offer come out on top! She made the process extremely smooth for both the sellers and us as buyers and kept everyone informed along the way.
Oliver C.
I also have to say Lucy is an All Star real estate agent! She is on it! Super responsive and always went above and beyond to make sure all of our questions were answered thoroughly. She did research on properties we were interested in, seamlessly scheduled showings to maximize our time, and kept us on track throughout the very confusing escrow process. I could go on and on. Most importantly her pleasant demeanor kept us at ease during the stressful home buying process.
Grant and Shannon L.
We don't know what we would have done without Lucy!
We live in Dubai, and she worked tirelessly on our behalf

, including

during "off" hours to stay connected

with

us,

even

before we arrived for our home search. Working with Lucy at our side made us feel like we had an advocate in our corner from far away.
Lucy guided us through the sometimes-overwhelming house-hunting process by reminding us of the core values we shared with her about what was important to us. Her wisdom and insight saved us from rushing into hasty decisions, and also helped us to move forward when it was time. We felt so safe and well taken care of by putting ourselves in her hands.
Her expertise in understanding the rhythm and spirit of the community gave us a great feel for the Hermosa / Redondo / Manhattan Beach areas. She knows people, property, and places and exudes an unshakeable integrity rare in today's real estate world. She is as kind, warm and approachable as she is wise, savvy, and professional. Her

experience,

passion and absolute love for the South Bay community shines through all she does - it's not just "business" to Lucy. We heartily recommend her without hesitation!
Christopher Shaw and Noelene Shaw
Sales History
December 9, 2023
$1,375,000
Med. List Price
Past Sales